PeaceAtTheTable.World is a site about telling and sharing true stories of sitting down to eat or drink with others – and the peace that it often brings. These stories can be about something as small as two people sharing a cup of tea and the connection that it brought.
Many of us have participated in or witnessed a meal that has grown peace between people. Please share your story with us & share this site so we can build peace together.

Food is critical to everyone and calls to us at birth in our first moments. It comes from a peaceful place before any thoughts of disagreements, hate or war.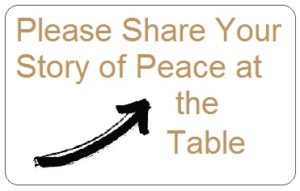 It is our most basic need that we all share.
When food or drink is shared we have an opportunity to see, talk, and connect with others in a most open and natural way.

The need for and the joy around food connects us all. Meals are catalysts for peace.
---
These stories need to be told. The world needs to hear news and stories about healing and building peace – now as much as ever in our shared histories.